Okhtein Features In WWD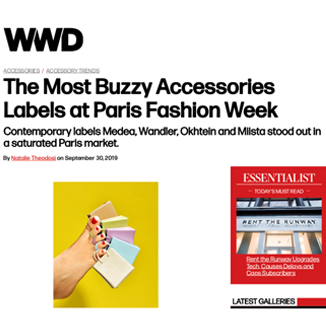 The handbag label, which was founded in 2014 by Egypt-based sisters Aya and Mounaz Abdelraouf, quickly stood out in the sea of all-minimal brands that took over the contemporary market in the last few years. The Abdelraouf sisters took the bolder, more maximalist route, drawing inspiration from their own heritage and designing structured totes featuring elaborate brass work — which also gives them the chance to work with artisans in their home country.
Given the statement-making nature of the bags, celebrity attention came quickly with Beyoncé and Cardi B among the biggest fans, as well as key stockists like Selfridges and Moda Operandi.
The designers are ready to broaden their audience base with a wider offer of handbag styles and sunglasses. There was an array of more easygoing, relatable options in the form of structured leather totes featuring cool plexiglass frames and handles. "We wanted to make sure that we are still offering something different to what's in the market right now," said the Abdelraoufs, who are also keen to keep their brass signatures coming back every season. "The feedback has always been that it's a niche style, but it's what feeds the whole brand. The other day, a picture of Rihanna and Cardi B, with her Okhtein brass bag in the background went once again viral, reassuring us that we need to keep bringing it back."
 The sunglasses range takes the same niche approach with oversize round shapes and influencer-friendly micro ones, featuring brass or plexi frames to create "a handmade, collectible" feel.
Among the designers' main goals is to penetrate the U.S., Asian and Russian markets further. "We see that there is potential from the number of orders we get on our own e-commerce site from these regions, so we want to build our physical distribution there," said the Abdelraoufs, who are also investing in a business-to-business AI-powered service that will allow potential buyers to log on to the brand's site and track the styles being ordered at each market to help "minimize the risk" in their own buys.
By Natalie Theodosi on September 30, 2019