Okhtein's Launch On Farfetch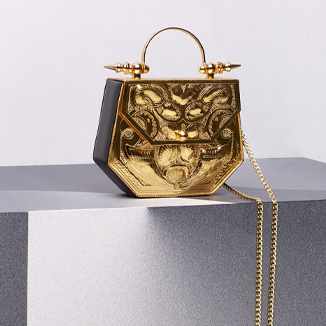 Today, Farfetch.com cuts the ribbon and launches two special collections from Reemami and Okhtein, winners of the 2016 DDFC/Vogue Arabia Fashion Prize.
As part of the Fashion Prize winners' package, both brands gained support from the retail giant Farfetch, including a retail opportunity, which comes into fruition today. The award-winning regional designers follow in the footsteps of 2015 winners Hussein Bazaza and Hind Matar.
In the global e-commerce limelight are the Egyptian sisters Aya and Mounaz Abdelraouf of luxury accessories brand Okhtein. The sister act aptly named their capsule Spring collection 'Nomadic Citizen.' Okhtein seeks inspiration from Eastern silhouettes, Old Cairo's architecture and mosque walls.
The result? The elegant geometry of these bags are universally appealing but rooted in Arab heritage, making them prime arm candy for Bab Zuweila nights or Brooklyn struts. From leather to metalwork, the design duo add a signature to different fabrics, skins, and metals – often in one bag, to create contrast.
"Being part of the first Fashion Prize under the name of Vogue Arabia is a historical moment for us," Mounaz Abdelraouf said prior to the winner's announcement.
The brand is now on a platform that has projected it across three continents. "We are delighted to count Reemami and Okhtein as the latest additions to the Farfetch network; giving them a global platform and providing our customers with exclusive access to their SS17 collections. We were impressed by the design talent shown at The Fashion Prize, especially these winning collections," says Stephanie Horton, chief marketing officer at Farfetch.